Joao Felix admits plan to move to England in future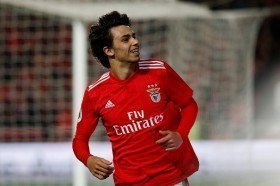 Newly signed Atletico Madrid attacker

Joao Felix

has revealed in an interview that he hopes to one day move to England to play in the Premier League. The former Benfica star, who at 120 million euros becomes one of the most expensive football transfers of all time, has moved to Atletico as a replacement for

Antoine Griezmann

and arrives with a massive reputation.
19-year-old Felix burst on to the scene playing for Benfica in 2018, having come through the ranks at Porto, Padroense and Benfica's B side. He has since played for Portugal's full national side once, despite having appeared for the under-18's, 19's and under 21's dozens of times. 

It was only last year that Felix really started to emerge from the shadows, having received a promotion to the first team and making his debut in the Primeira Liga on the 18th August. He scored his first goal just a week later, becoming the youngest player to score in the Lisbon derby.

Lauded by many as the long-term successor to Cristiano Ronaldo in the Portugal national team's side, Joao Felix has captured the hearts and minds of Benfica fans in recent seasons with numerous impressive displays. The teenager, who joins Diego Simeone's Atletico Madrid side as an immediate first-team player, has signed a six year contract with the club and has a massive 220 million euro minimum fee transfer release clause included in his contract.

Joao Felix has sensationally revealed in early interviews since his arrivals that he hopes to one day play in England. The Portuguese star told reporters: "I'd like to one day play in the Premier League."

Joao Felix has been linked with a transfer to Tottenham and in response to those talks, the youngster replied: "Me, to Spurs? Right now that's impossible, but I don't know, maybe this can happen one day."

One of the reasons for Joao Felix's decision to choose Atletico Madrid over Barcelona, Man Utd, Real Madrid or Paris St Germain was the promise of regular first-team football. The player had started on a regular basis at Benfica, so a transfer to Atletico included certain promises that he would be immediately starting as a replacement to Griezmann. 

Talking of his position in the starting XI, Felix said:  "I don't really care about [my price-tag] or the money, I just want to be playing and I just want to get my job done. That's the most important thing.

"It's a dream come true to be playing with Atletico, one of the best teams in Europe and the world. I'm very happy.

"I don't have any problems with pressure, it's my job. I have to know how to handle that."

Atletico Madrid will be hoping that the signing of Felix will boost their own chances of La Liga success. If betting on soccer is your thing, Atletico Madrid could represent excellent value for lifting the trophy this season now that they have acquired one of Europe's best young players.