Pochettino apologises for Tottenham behaviour after friendly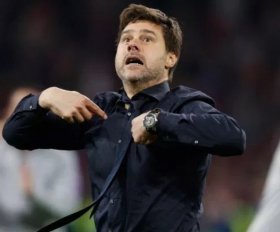 In an aggressive pre-season friendly game between Man Utd and Tottenham Hotspur, numerous players were left in a heap on the ground after some high-flying tackles from Spurs' players. After the tie manager

Mauricio Pochettino

had no option but to apologise for the errors of his club's ways, particularly the younger players who were heavily involved in confrontations.
Some heavy challenges from Dele Alli on the likes of new Man Utd signing Daniel James left Man Utd manager Ole Gunnar Solksjaer very upset, but more importantly with Pochettino feeling the need to apologise for the antics of his own players. There were a number of mistimed tackles by Spurs players, in a game that would finish 2-1 in a victory for Man Utd, with the winning goal coming from Angel Gomes.

"I apologise to Manchester United on behalf of our players," said Pochettino. "I was a little bit annoyed about some situations. I was not happy because sometimes you can arrive late and something can happen.

"Sometimes you need to be aggressive and play with passion but the focus is on building our fitness and developing the way we want to play."

Ole Gunnar Solskjaer could be seen on the touchline showing his own frustrations, particularly with regards to the wellbeing of former Swansea City star Daniel James, who had only just arrived at Old Trafford during this transfer window.

Solskjaer commented on James: "I can understand why players mis-time tackles against him and he's a brave little boy and he jumps, he's taken a few knocks over the tour but as an old man I like to see tackles.

"There's no rolling about or diving. If he stays down, he's injured. But he gets up when he's just hurt. There's a difference between being hurt and injured."

The game itself was an interesting one. Anthony Martial opened the scoring on 21 minutes, before Brazilian international Lucas Moura pulled back an equaliser for Tottenham in the 65th minute. Angel Gomes would go on to score his first senior goal in the 80th minute to wrap up the game.

Eric Bailly was left in a heap and suffered an injury during the game, stretchered off after just nine minutes of being on the field having arrived as a half-time substitute. It was Bailly's first game back after recovering from knee surgery.

The game in Shanghai would delete many local supporters, but those Chinese fans were left shocked at the display with some horrifying challenges being made in the friendly game.

Premier League clubs often use games to China as a reason to test out their young squads and Man Utd and Spurs definitely did so, with an array of youth talent on display to the delight of the local fans.

Reckless nature of the game aside, the tie was an interesting one to watch.

Tottenham are considered one of the favourites for Premier League title challenges this season, you can find odds for sports gambling online to see Spurs' chances for the 2019/20 campaign.