Premier League: Where is Manchester United going to finish?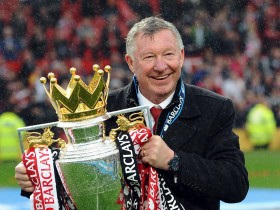 The retirement of Sir

Alex Ferguson

in 2013 has had a predictably tumultuous effect on Manchester United. Replacing such a legendary figure was bound to be a tough task, but nobody could have predicted the fast turnover of new managers and the struggles that have been witnessed at Old Trafford.
In quick succession, we have seen David Moyes, Luis van Gaal, and Jose Mourinho struggle to get results and connect with the Man United fans. Failure is not an option for such a big club so they have been ruthlessly fired.

The job of getting Manchester United back to the top is now with Ole Gunnar Solskjaer a popular former star player. Ole has discovered that he faces a challenging time ahead and that his former popularity as a player will not shield him from criticism.

Please check Apuestas24 to see the odds for all upcoming football matches, and get all of the latest info on Manchester United.

Where can Manchester United realistically hope to finish in the 2020 Premier League?

This is without doubt one of the most competitive Premier League races, and there is quality apparent in teams throughout the league. There have been upsets regularly enough that no fan of a top team can be confident of beating a lower placed club. 

There is a reason for optimism for Manchester United and Ole Gunnar Solskjaer. Although they have had an uneven season with too many defeats for the faithful fans to tolerate, they currently find themselves in fifth place in the league. They are only a few points behind fourth-placed Chelsea. 

The Liverpool boss Jurgen Klopp has recently tipped them to finish this season in the top four, so the potential is apparent in the current Man United team.

There are many factors which need to work out in their favour, but with a mixture of good fortune, no major injuries and some wise purchases in the January transfer window, a top-four finish for Manchester United this season is achievable.

How much of a threat are Manchester United's traditional top 4 rivals this season?

In recent seasons there has traditionally been a top-six of big clubs, all battling for a top-four finish and a  Champions League spot.

This season Liverpool and Manchester City seem to be on a different level to their four rivals and appear destined to compete with surprise package Leicester City for the Premiership title.

Manchester United has been aided in their quest for a top-four finish and qualification for the Champions League by the uneven performances of their other traditional top-four rivals. Arsenal, Chelsea and Tottenham Hotspur all have new managers and seems to be undergoing a period of transition.

Of the three clubs, Chelsea with their former star player Frank Lampard in charge seems best placed to compete with Manchester United for fourth place. Arsenal and Tottenham Hotspur have too many issues to overcome to realistically challenge for a top-four spot. 

How long will it be before we can expect to see Manchester United back at the top and challenging for the Premier League?

There have been some Man United supporters who have called for the firing of Solskjaer, citing some disappointing tactical performances and doubts about his ability to motivate key players such as the disappointing Paul Pogba. However, a majority of fans seems to believe that the managerial merry-go-round has to stop sometime and Solskjaer should be given time to build the team that he wants, even if it means a few more uncompetitive years.

The team still seems to be in transition and paying the price for major investments such as Alexis Sanchez not having not been as successful as hoped.

The advantage that Solskjaer will have is that Manchester United still have extremely deep pockets and are capable of funding any transfer they wish to do. Perhaps patience will be the key for this Man United team to again rise to the top.

It is easy to forget that Sir Alex Ferguson struggled during his early years as manager of Manchester United and faced major calls for him to be fired. He then went on to have an unparalleled career winning the Champions League and countless Premier League titles and other trophies. All of that could have been lost if he had got the sack.

I suspect that the Manchester United hierarchy, along with their manager has a long-term strategy in place, and will have realised that simply firing the manager and starting again with moulding a team in the new manager's image is simply not working.

They are likely to back their current manager and give him the next two to three years to get Manchester United in a position to challenge again for major honours.

Final Thoughts

Manchester United has found themselves in a difficult situation. They have a fanatical fan base who are used to success, but the reality is even lavish spending on new players has not worked.

With a little luck, they can qualify for next seasons Champions league in fourth place and build from there.