Ancelotti praises Zinedine Zidane coaching methods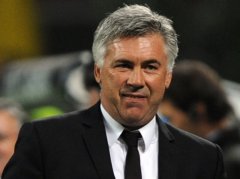 Everton manager

Carlo Ancelotti

has reserved special praise for Real Madrid manager

Zinedine Zidane

; with the Italian coach labelling Ancelotti as a huge influence on his own coaching methods. In addition, Ancelotti has insisted that Zidane's style during his playing career has also heavily impacted the way he has chosen to manager his own teams.
In an interview with Sky Sports, Ancelotti has informed Jamie Carragher, who ran the interview, that Zidane was an important player to adjust his own management style and that adjusted his own footballing philosophy.

Ancelotti coached Juventus during Zidane's time at the club there, and Ancelotti has revealed that this made a difference to his own management style : "With Zidane, I tried to change my idea about the system. Zidane is the first player who gave me the possibility to change the system and play in a different way. So when I had Zidane, in the first year at Juventus, I played with a system of 3-4-1-2, having [Alessandro] Del Piero and [Filippo] Inzaghi up front and Zidane a little bit behind. The second year, I played with a back four but keeping two strikers in front and one No10 like Zidane."

When discussing his preferred formation, Ancelotti revealed that he used to employ a 4-4-2 style but Zidane's introduction meant a change to 4-3-3.

"Zidane changed my idea about football, I was so focused before Juventus on 4-4-2 and after with Zidane, I changed, I wanted to put him in the best position for him to let him be more comfortable on the pitch," quipped the Italian manager.

Ancelotti, who helped lead Chelsea to a Premier League title, has started life well at Everton and in recent times has employed a more attacking formation at Goodison Park, with Richarlison an important part of that attack.

Richarlison has been a wonderful signing since his arrival from Watford, with some labelling the Brazilian as a potential world class player.

When speaking of other stars, Ancelotti mentioned Ronaldo and Zidane in the same breath: "You don't have to build a team around Cristiano Ronaldo and as I said with Zidane, you have to put them in the more comfortable way on the pitch. I don't think you have to build strict tactics with this player defensively because there are players who are more involved in the attacking phase and there are players who have to be involved more in the defensive phase."

Do you think Everton will head towards the Champions League once the football season restarts? Casino Games UK is one of the best places to find the latest information and other odds relevant to the Toffees.