Scholes feels for Carlos Tevez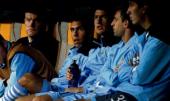 Paul Scholes

feels for Man City striker

Carlos Tevez

at his apparent rejection at Mancini's calls for the player to warm up. The Man Utd man feels for Tevez.
"I know Carlos quite well. He's a player who wants to be playing,'' Scholes told BBC Radio 5 live. "When he's a sub, it will be killing him.

"It's totally up to the manager but Carlos wouldn't have been thinking that. He'll be thinking, 'The manager is against me, why is he not bringing me on? I'm City's best player and he's not playing me'.

"I'm not saying he [Tevez] is right - it's totally up to the manager."