Eyefootball.com is hiring!
Football fans wanted! Contact us by E-Mail with our Contact Form. We currently have roles open for Football Writers and Editorial Roles.
We have recently improved our publisher tools. Why not have a look at some more information at the page that explains exactly how to use the publisher.
Please read a little more about our writer trial program.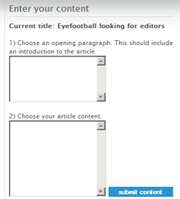 Eyefootball is looking for football fans of all ages and from all countries to help contribute to our website.
We have a mix of paid positions and internships and both roles are available for applicants depending on experience and ability.
All applicants should have excellent written English and should be available to work for at least one hour a day. The ideal applicant should have some basic experience within journalism and must be flexible with regards to working hours. We also, of course, are looking for football experts. Our site is popular for those for those with a keen interest in football transfer news and so our expectation is that you follow the market closely and know your rumour mill.
Why would you want to work for eyefootball.com?
Your work will be made available to over 50,000 unique visitors a day. Boost your profile within the industry.
Learn more about the world of football being a part of eyefootball's expert team
Access to one of the world's most secret and comprehensive football transfer news API's
work with some of the industry's most respected journalists within the field

What will I have to do?
We are looking for two kinds of editors. We are looking for those who will join our news reel team, contributing the latest football news and football transfers to our website using our easy to use administration software. Secondly, we are looking for football fans who want to write blogs, share opinions and write scouting reports.
Studying for a Sports Journalism degree? Join our sports journalism programme, contact us for more information.

Our website is moderated by a small group of editors and we are continually looking for new people to contribute. Although eye football is in its infancy, we are looking for a few more football fans who can help make eye football one of the most unique and best football resources on the internet. Do you continually read the latest football news? Why not come write your own stories for us and be part of a winning website?

We'd also love to hear from people who are Football Manager and Championship Manager fans who watch a lot of football and are capable of writing scouting reports for our website. We are looking to build a comprehensive database containing the latest scouting reports on the latest up and coming talents.

Do you feel that you can help us reach our goals? Contact us direct with our Contact Form.