This article has expired. If you are the publisher and you believe this to be an error, please contact press@eyefootball.com to discuss.
Article originally published 09 May 2016 - 09:02, 1426 days ago.
Platini's Lawyer Expects Client's Name To Be Cleared Before Euro 2016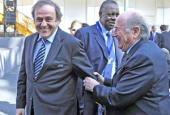 Former French superstar and UEFA President

Michel Platini

's lawyer believes Platini will be reinstated as UEFA president before the start of the Euro 2016 tournament. This is a rather unexpected verdict for many.
If Platini does get reinstated, it won't have an effect on online sportsbook soccer odds, but it will allow him to back around the sport after being banned from the sport for six years by FIFA.

In February, Platini and former FIFA president Sepp Blatter were banned from the sport for their part in the bribery scandal that rocked the sport last year. The punishment was for the conflict of interest that arose after Platini was paid $1.35 million by FIFA in 2011.

The $1.35 million payment was made to Platini nine years after the Frenchman stopped working as an advisor to former president Blatter. The payment was also investigated by Swiss authorities and both men eventually admitted that it was not covered by any written agreement. Platini and Blatter have denied any wrongdoing.

Despite his suspension being reduced from eight years to six years, Platini is challenging it at the Court of Arbitration for Sport, and his lawyer told French publication L'Equipe that he expects his client to be vindicated after the hearing on Friday.

When asked why he was confident in his client's vindication, Yves Wehrli said it was the first time the case has been brought in front of an independent jurisdiction consisting of great legal minds. Since the case was brought before a FIFA committee the first time, there was some bias. This time around, he expects a fair hearing for his client.

When Platini was suspended, he was running for the FIFA presidency and was heavily favored to win the race. However, the suspension ended any chance he had of becoming FIFA president. Gianni Infantino, the former Secretary General of UEFA was elected as the new FIFA president in February.

Since Platini can no longer run for the FIFA presidency, Wehrli is hoping that Platini can be restored as the UEFA president if he is exonerated.

Wehrli said he would consider it a major victory over FIFA because he feels that the soccer governing body did everything it could to prevent Platini from becoming its president.

Wehrli also said that his goal was to have Platini reinstated as UEFA president before the start of the Euro 2016 tournament which is being held in France. 

Among those testifying on Platini's behalf are former FIFA president Sepp Blatter, who stepped down from his position due to the bribery scandal. Jacques Lambert, the head of the 1998 World Cup organizing committee, and Angel Maria Villar, the president of the Spanish Football Association and a long-standing member of UEFA's executive committee.

Wehrli said Platini's accusers tried to use the fact that there wasn't a contract for the $1.35 million he received from Blatter as the basis for their theory that Blatter paid Platini the money to keep him from running for the FIFA presidency.

However, Angel Maria Villar will testify that he heard about the payment and that Platini never asked any of the European committees to vote a certain way, which will throw a wrench in FIFA's theory.

Wehrli said Platini made a mistake by not getting the payment he was owed until 2011, he also added that Platini had already declared the payment on his tax return, proving it wasn't an under the table payment.