Arsenal Tying up Key Contracts but Sanchez Still Stalling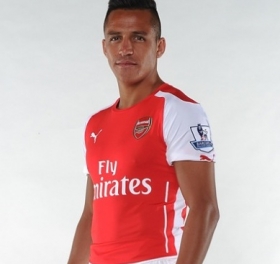 As the January transfer window rolls into view Arsenal are scampering to tie up improved contracts with their core players in the hope of staving off interest from other clubs. In recent weeks

Mesut Ozil

and

Alexis Sanchez

have been playing hardball over new salaries at the Emirates, but it appears as though Ozil may be ready to pledge his future to the club past 2018.

Olivier Giroud

and

Francis Coquelin

are in the process of signing bumper new deals, it has been reported.
According to the Telegraph, Ozil has just bought a new house in London, indicating that his future lies in the English capital. Nothing has been announced officially as yet, but the publication believes that Arsenal have offered the German a £200-a-week package to stay with the club way beyond the expiration of his current deal in 2018. This represents a key swoop for Arsene Wenger, as there has been a lot of interest surrounding the playmaker who is enjoying exceptional form for the Gunners throughout the current campaign. There have even been rumours circulating of Real Madrid possibly lining up a bid for the World Cup winner to bring him back to the Santiago Bernabeu if the Spanish giants sell James Rodriguez.





Watching the sensational talent of Ozil (see video above) is certainly one of the main reasons why Arsenal tickets from Ticketgum are in such hot demand. But he isn't the only superstar that Wenger desperately needs to cling to. Sanchez is also in contract discussions and it appears he may be playing hardball to get an even better deal than his German teammate. Reports suggest that the two-time Copa America winner has been offered £400,000-a-week to play in the big money Chinese Super League, and Sanchez is using this as a bargaining tool at the Emirates. If Arsenal and the player don't come to an agreement soon, elite clubs who can pay higher wages may start circling the star.

Encouragingly for Wenger, it appears he has managed to secure the services of his now second-choice striker, Giroud, on a one-year extension to his current deal until 2019. This is a boost for the club, as there had been speculation that the Euro 2016 finalist was dissatisfied with his demotion to the bench and had been seeking pastures new. One rumour even suggested that the 30-year-old had attracted interest from Italian giants Juventus.





Coquelin (see video above) has been a crucial component of Arsenal's free flowing possession-based football in recent years, and has a hugely impressive pass completion rate of 90 percent in the opponents half this season. The 25-year-old is on the verge of signing a deal worth around £80,000-a-week to keep him until 2021. Wenger is also expected to offer a much improved contract to Alex Oxlade-Chamberlain, whose current deal ends in 18 months.

These are all promising breakthroughs for the club, but Sanchez has proved how vital he is this season. The sooner they can come to an agreement with the former Barcelona man, the better.