Hammers keeper warns Chelsea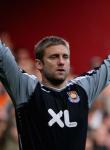 West Ham goalkeeper

Robert Green

has warned Chelsea that they expect a tough challenge when they play in the Premiership at the weekend.
"Chelsea will be tough, but we have got a few tough games coming ahead," Green said.

"We are looking up though and we can put a positive spin on the Fulham result. We have played better this season and not won.

"We created a lot of chances and on another day we would have taken them. It seems to be happening quite a lot this season.

"Chelsea had a big game on Sunday and they have a big game on the Wednesday after our game and you know they won't be looking forward to coming to Upton Park.

"I don't think anyone every does really.