Reliving The 2011-2012 Title Race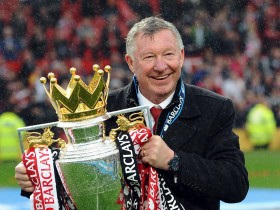 In September 2008 Sheikh Mansour Bin Zayed Al Nahyan bought Premier League also-rans Manchester City. Despite having an eventful season the year before, the Citizens had not tasted any real glory for over three decades.
Meanwhile, their city neighbours Manchester United had collected dozens of trophies, both at home and on the continent. Sheikh Mansour's long-term goal was to transform Manchester City into one of the biggest, and most successful teams in Europe.

Before they could achieve that, they had to win their first English title since 1968, the year that they pipped bitter rivals United to top spot by just two points. After a monumental financial outlay, neither Sheikh Mansour nor fans of City could have foreseen just how close-run their first Premier League title under the new regime would be.

In this article, we take a look back at the culmination of a season that not only frayed the nerves of football fans, but also wreaked havoc on the sportsbook markets. Jump aboard our time machine as we head back to the 2011-2012 Premier League season.

Background

Manchester United came into this season full of confidence, after winning their 19th top-flight title only a few months ago. Not only had United won the league at a canter, but they had also reached the Champions League final in the previous season.

Meanwhile, City had finally ended their trophy drought the previous season by edging out Stoke City in a tense FA Cup final. Hopes were high of progression at the Etihad, but closing the nine-point gap between them and United from the previous campaign seemed a lofty ambition.

Top At Christmas

Both teams started the season like respective houses on fire, until Manchester United's mid-October horror show. On October 15th Manchester United were replaced at the top of the table by Manchester City after drawing 1-1 with Liverpool at Anfield.

United's next match, at home to City provided them with the perfect opportunity to jump back up to the top of the table whilst sending out a message to their 'noisy neighbours'. However, it was to be Roberto Mancini's men who sent out a message, romping to a 6-1 victory at Old Trafford that left United humiliated.

City's fine domestic form continued to Christmas - perhaps helped by their early exit from the Champions League - with Roberto Mancini's men losing just once by the time the season reached the midway point.

Manchester United responded to their humbling 6-1 home loss at the hands of City by winning eight and drawing just one of their following nine league games. This run of form had helped United to close the gap at the top to just two points, allowing City little to no breathing room.



Manchester City's thumping 6-1 win at Old Trafford seemed to inspire United, who subsequently went on an inspired run of form

Manchester United Fightback

Sir Alex Ferguson's Red Devils looked to have blown their chances of catching City when they lost at home to Blackburn and away to Newcastle in between Christmas and New Year. However, fortunately for United, City could not capitalise on their slip-up, only managing to extend their lead at the top from two to three points.

Mancini's side first drew with West Brom before falling to defeat away at Sunderland. This lucky escape seemed to galvanise Manchester United, who won all but four of their remaining eighteen games.

For City, the pressure was beginning to tell and the free-flowing football that had characterised their season before Christmas quickly began to feel like a distant memory. Defeats at the hands of Everton, Swansea and Arsenal saw them relinquish their grasp on top spot as the defining month of the season approached.

Two points from a possible nine at the end of March and beginning of April left Manchester City five points off Manchester United. Of the five remaining games that each team had left to play, there were no major bumps for either, bar the prospect of a Manchester derby.

Even if City could beat United at home, the general consensus was that Ferguson's team would win their other four games and thus seal a record twentieth league title.

Manchester City's Heroes: Shaun Maloney & Steven Pienaar

Despite having a fairly easy run-in, Manchester United somehow conspired to gain just one point from two games against Wigan and Everton. In the first, United fell 1-0 at the DW Stadium to a sublime Shaun Maloney strike.

In the second, United blew a 4-2 lead at home to an Everton side who had nothing to play for. A late strike from Everton's South African midfielder Steven Pienaar secured a point for David Moyes' hardworking Toffees.

That result left United three points ahead of City, but with a weaker goal difference and a trip to the Etihad to come…

Manchester City's To Lose…

A Vincent Kompany header from a corner secured a vital 1-0 win for City over United when the two teams met at the Etihad. That victory put Roberto Mancini's side top of the league with just two games left to play.

The first of City's remaining two fixtures was a tough trip to St. James Park to take on an in-form Newcastle United. The Citizens ran out 2-0 winners while their rivals won by the same scoreline, this time at home to Swansea City.

It was all down to the final game of the season, City had to beat relegation-threatened QPR at home and United had to beat struggling Sunderland and hope that City slipped up. Could Manchester City really throw it all away at home to QPR though?

Aguer-OOOOOOOOOOOOO

When the full-time whistle rang out at the Stadium of Light, United fans were not only celebrating their sides 1-0 victory, they were also celebrating their team's retention of the title.

As things stood, Manchester City were still trailing 2-1 at home to ten-man QPR, courtesy of goals from Djibril Cisse and Jamie Mackie. United's celebrations were somewhat put on ice when Edin Dzeko equalised for City in the 92nd minute, but fans of the Red Devils were still confident that their side would win the title.

Manchester City still needed another goal to win the game and subsequently win the title. They were playing a stubborn opponent, who needed the point just as much as City needed all three.

Surely they wouldn't score a winner? Surely? Well, they did. In the 95th minute of the game Mario Balotelli fed Sergio Aguero outside the box, the Argentinian took two touches to steady himself before rifling the ball into the back of the QPR net.

Within moments, the final whistle was blown and Manchester City were crowned Premier League champions in the closest run title race since Mickey Thomas' 1989 goal at Anfield.