Donadoni Sacked!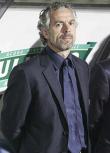 According to a BBC report, the Italian football federation has decided to sack

Roberto Donadoni

as the national team coach.
The decision by FIGC comes in the wake of Italy's disastrious performance in Euro 2008 where they were knocked out of the quarter-final by Spain on penalty shoot-out.

The Italian media then waged a campaign for the sacking of Roberto Donadoni who was appointed as the head coach of the Italian national coach in 2006.

He replaced Marcelo Lippi who decided to step down after guiding Italy to the 2006 Germany World Cup triumph.

The common consensus now is that Lippi would be brought back to the national set-up and be reinstated as the coach again.