McLeish takes Aston Villa job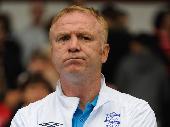 Alex McLeish

has sensationally signed for Aston Villa. McLeish walked out on his previous club Birmingham City last week and has put pen to paper on a contract at Villa Park.
Many Aston Villa fans are furious that McLeish has arrived from their most fierce rivals, but McLeish has asked for a chance to prove his doubters wrong,

McLeish helped Birmingham to a Carling Cup victory, despite seeing his side slip to the Championship after relegation.

"The challenge for me is to try to add my own chapter," he said.

"Since first becoming a manager at Motherwell, my desire to succeed and my energy and drive have never waned. My objective is to impart that drive and will to win to the players and fans of Aston Villa.

"I know that some of our fans have voiced concerns and I can understand why. It will be up to me to convince you that I am the right man to drive the club forward and I intend to give absolutely everything to prove that I can be a success at the club."