Ronaldo hints at Premier League return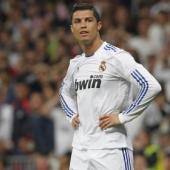 Real Madrid midfielder

Cristiano Ronaldo

has refused to close the door on a return to England and the Premier League. Ronaldo admitted that he is happy in Madrid, but would consider a return to England.
Ronaldo revealed he would be happy to sign a ten year deal in Madrid, but one day could be persuaded to return to England.

The Portuguese international quipped: "I don't close the door, so maybe in the future I hope so, because I know the league, I know the players, I know the atmosphere.

"Why not? I hope so one day, but you never know. The team that I like more in England is Manchester but I cannot say that I am going to play there one day because I am very, very happy in Madrid.

"I've said a few times that, if Madrid want, I can sign for ten years more until the finish of my career but nobody knows the future. I cannot lie to you and say I will stay here ten years, that I am not going to come back to Manchester. It is not fair on my part. Let's see what future God has prepared for me."