SWP happy with QPR result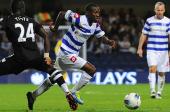 Shaun Wright-Phillips

has praised his team mates for the way they battled to a draw against Newcastle. QPR have spent big this summer and Wright-Phillips thinks the team has gelled already.
The England midfielder said: "It's the first game that we've all played together. I think we've done superbly and I also thought the team defended really well.

"As long as we keep playing like that and the better we get to know each other, then the better we're going to do.

"I think if we keep creating chances like that then we can get a few goals in the next few games."