Arsenal chief wary of Dortmund threat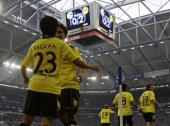 Arsene Wenger

thinks that the match against Borussia Dortmund tonight will be a great spectacle, as the German side proved with their Bundesliga success last year they can be a tough challenge.
However, this year, Dortmund have staggered out of the starting blocks so far. But Arsenal's boss is still concerned, admitting that he was disappointed to get the German side as they were one of the better teams in the draw: "I have a lot of respect for the team. They play very fast, very offence very similar to Arsenal.

"It will be a good match tomorrow. We will play offensively, they will play offensively so it will be a very attractive match.

"Dortmund have very good technical qualities, they are well organised.

"Although they have not started the season well, they will be confident for the match tomorrow and they will give everything in the first 20 minutes.

"With the fans behind them, it will be a very attractive match.

"Football in Germany is in a good way. They play good football in Germany, especially here in Dortmund.

"Dortmund were the strongest team in pot four, so I was a little bit disappointed."