Goal line technology on the agenda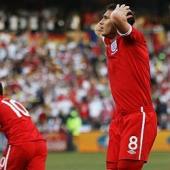 The FA is considering new innovative technologies for the 2012/2013 Premier League season, with goal line technology currently being tested. FIFA will make a final decision in July 2012 regarding adoption in hope that this will reduce referee errors during game play.
Technology that detects whether or not a ball has crossed over the line is currently in the testing phase; and a number of different solutions are being considered. The idea is that such technology will prevent incidents such as Frank Lampard's disallowed strike against Germany in the 2010 World Cup in South Africa.


Such technology would be beneficial in games when the referee may have missed a critical moment, and allows the referee to have an extra overview of the game. Rules are currently being discussed.


"I think goal-line technology would be a huge boost for the game," said general secretary of the FA, Alex Horne.


"For years we've thought this was a good addition to referees' armoury.


"Whether there is enough time for the technology to be bought, paid for and put into any league or competition for next season, I'm not sure.


"It would be really tight - but it might be possible for next season."


Meanwhile, a number of companies, such as Adidas continue to test new solutions, such as the Teamgeist II soccer ball that contains a microchip that sends a signal to the referee.