Keane: United can win league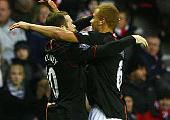 After watching his Sunderland side get battered 4-0 at the Stadium of Light by Man Utd, Sunderland boss

Roy Keane

praised his former club's performance and predicted that United would win the Premiership title this season.
Roy Keane said: "I have been asked this question for the last month or two and I have said before my money is still on United and today has not changed that, it has not wavered it one bit.

"Any team that wins the league, history will tell you - and the manager of United has got so much experience - that they will get stronger as the season goes on.

"We did not kid ourselves when we were beaten 1-0 down there. It's like ourselves, it takes eight, nine, 10 games to get into the swing of things, even more so for the big boys who might have brought in one or two big signings.

"United, as the manager has said, if they are there or thereabouts coming into the new year, they will have a hell of a chance and I would not disagree with that one bit."