Arsenal target Shkrodran Mustafi to stay at Valencia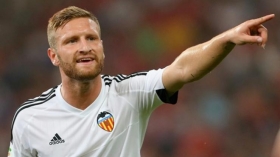 Arsenal's top summer target Shkrodran Mustafi has been told he will need to stay at Valencia this summer. The Gunners are desperately seeking a centre back after injuries to

Per Mertesacker

and Gabriel.


Valencia were known to be open to the sale of Mustafi, the Gemran international star. However, there has now been a change of heart as confirmed by Valencia coach Pako Ayestaran.

"Mustafi is not for sale and he will stay at VCF," Ayestaran told reporters. "The market is open and there are still possibilities.

"With Alcacer, I can be as firm as with Mustafi. The president has said in public that Alcacer and Mustafi are not for sale and I have to believe her."