Man City have eyes on Europe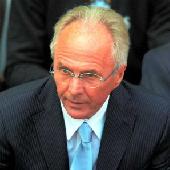 Sven-Goran Eriksson

has his eyes on European football next season after defeating Man Utd 2-1 at the weekend at Old Trafford. Man City are within close touch of the top four Champions League qualifying spots.
"We need to use the win over United as a positive for the rest of the season not just as a one-off.

"What I told the players before the derby was that we needed a performance at Old Trafford and that perhaps mattered more than the result.

"As it happens we got both, but the point I was making was that we had been a little bit flat lately and that if we didn't get a decent performance soon the rest of the season might just dribble away and that would be a shame because we would miss Europe or maybe not even fight for it.

"We had to show our fans and our rivals in the Premier League that we still had the desire and ability within us to fight all the way to the end of the season and we did that. It made me very happy."