Joe Cole ready for Tottenham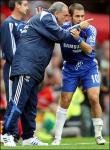 Chelsea midfielder

Joe Cole

is ready to take on Tottenham. The two clubs played out an epic 3-3 draw in the sixth round of the FA Cup last season, and Cole expects this seasons Carling Cup final to be just as heated. Cole is excited and ready to go after missing last season's Carling Cup final.
"I expect it will be heated," said Cole. "Ever since I was a kid there has been a tense rivalry between the two clubs.

"I'm really excited about the game. I missed the last two through injury and I missed the Carling Cup final (last year against Arsenal) as well so I'm desperate to be involved.

"It's a big game at any level but a cup final just increases it that much more.

"Whoever wins this one will have the bragging rights for some time to come. It promises to be entertaining but there will be an edge to it, that's for sure."