German Bundesliga poised for restart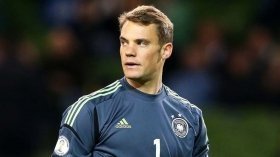 The German top flight is set to restart after the coronavirus global pandemic, after the German Football Association allowed clubs to return to training. This is in stark contrast to some of Europe's other top leagues, such as the French Ligue 1, which had formally announced its postponement for the 2020 campaign. 
Of course one of the benefits of football returning is that also supporters can stake their bets too, with the Bundesliga having all coverage on mybettingsites.co.uk.

There has been some uproar in Germany that the football association has opted to allow action to recommence, with some clubs concerned that their player's health would be put at risk. 

The English Premier League is hoping to restart action in June, but the wave of cases in the United Kingdom appears to still be quite high on a daily basis, leaving the Premier League's organisers uncertain about an exact date.

This Saturday the action will restart and the players have taken to social media to declare their excitement.

Eintracht Frankfurt's sporting director Fredi Bobic commented on the football restart, saying: "Everybody will watch the Bundesliga to see how the players are on the field and outside the field. Hopefully they will do it positively. A lot of our colleagues can participate in that -- if everything works, the handbook, the plan, everything, we can give that to other federations and other sports."

It marks a total of 61 days since any football had been played in Germany, and footballing fans across Europe will be delighted to see restarts having been confined to being able to only watch Belarus' top flight during the global pandemic.  

Bayern Munich, who are seeking an eighth successive Bundesliga title, currently lead the table with 55 points from 25 games, four ahead of bitter rivals Borussia Dortmund whilst RB Leipzig sit in third place on 50 points. 

The pick of the weekend games is Borussia Dortmund against Schalke 04, with the rivals competing at Dortmund and the likes of Erling Haaland and Jadon Sancho eager to make an impression. Meanwhile, title challengers Leipzig take on minnows Frieburg.

This Monday brings Union Berlin taking on Bayern Munich to wrap up the weekend of football. 

It is expected that fitness and social distancing will prove a massive challenge for the players during this important round of games, and so expect to see some interesting goal celebrations with the distancing laws currently in place in Germany.

Last week the Bundesliga's chairman and CEO Christian Seifert confirmed to reporters that the return of the Bundesliga currently remains on "parole", while the organisation assesses the continued impact of coronavirus on people's lives and also sport. It is hoped that the return of football will offer some hope or promise for fans who are desperate to see football on television again, even though supporters will not be allowed to visit their club's stadiums to watch the live action.