A New Era Begins For Barcelona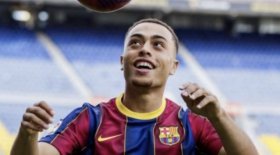 The 'MSN' or Messi, Suarez and Neymar were an attacking triumvirate which tormented opposition defenders in the middle of the previous decade and the culmination of their torment was the 2015 Champions League success under Luis Enrique.
That year saw the trio lead Barcelona to a 3-1 win over Juventus and in doing so, the Catalan club won the third European club crown in seven seasons. The success which ultimately proved to be their recent high watermark.

Fast forward to the summer of 2017 and a transfer saga would rock the Camp Nou, as one-third of the attacking tripod departed for France and with Neymar swapping Barcelona for PSG, some argue that the club are yet to recover.

With the Brazilian now plying his trade in the French capital and making light work of Ligue 1 opponents, Barcelona have looked to fill such an enormous void with the signings of both Dembele and Griezmann.

Unfortunately, they along with Philippe Coutinho have been a trio of their own and if the 'MSN' was lauded for all they have done, the set of names mentioned above can only be considered a threesome of transfer busts.

Busts that have left both Lionel Messi and Luis Suarez scratching their heads, as to the direction that this legendary club are going and if this is a ship that needs steering, it was obviously without a rudder in last season's Champions League.

If the 2015 final was the high point, then 2020 in Lisbon was the obvious nadir and after an embarrassing 8-2 quarterfinal defeat to eventual winners Bayern Munich, it was clear that a rebuild project was required.

A project that was nearly without Messi, as his post-match comments set the football world ablaze and with the mercurial Argentine making public his desire to leave, a gold rush for his signature began.

Of course, a global pandemic can also hamper any plans and at the very least, will offer a modicum of confusion and with the legal status regarding a potential move up in the air, the next battle that Barcelona fought looked likely to be in the courtroom.

A scenario that even if Messi wanted to leave, is one that he did not want to put the club through and after a backtrack of sorts, he subsequently announced his desire to stay for the duration of the 2020/21 campaign.

However, a rebuild still had to take place and it is one that saw Suarez ushered out of the exit door, as Atletico Madrid took full advantage of such an inviting transfer fee, to welcome him into the Wanda Metropolitano.

Which means 'MSN' is now 'M' and with Messi the last bastion of the old era, he will have to oversee the new one and the big question is whether he and new manager Ronald Koeman, can lead Barcelona back to domestic dominance.

After missing out on the La Liga crown last season, Barcelona will have a score to settle against perennial foes Real Madrid and with Los Blancos eventually cruising towards the title, they stopped a third consecutive success for Messi and company.

When it comes to the favourites to land this season's league title, Real Madrid are once again favourites and Pinnacle has really good options for betting in la Liga. However, if you are looking for some value, Barcelona might be the team to place on your betting slip.

If this is to happen, then this is the season that the likes of Griezmann, Dembele and Coutinho need to finally live up to the sizeable transfer fees that were paid to acquire their services over the past few years.

On paper, these three and Messi should be able to strike fear into anyone who gets in their way. Then again, football matches are not played on paper and Barcelona's busts cannot afford to live on reputation alone.


MESSI WHAT A GOAL IN THE AWFUL WEATHER 🐐 pic.twitter.com/Ppcxyn2Z6M

— mx (new acc) (@MessiMX10i) October 1, 2020


If Ronald Koeman can finally turn his inherited flops into genuine stars and cultivate an attack line that fires on all cylinders, the glory days could return to Catalonia. However, if he fails to do, this could be the last ever season that we see Lionel Messi in the famous colours of Barcelona.