Lampard agent denies rumour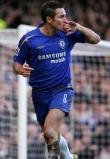 Frank Lampard

's agent

Steve Kutner

has denied the rumours that

Frank Lampard

is looking to leave the club. Both Barcelona and Inter Milan have been linked with a move for the Chelsea midfielder this summer.
Lampard's agent Steve Kutner said: "I don't know why Inter Milan would think this. Nobody has talked to me and I am good friends with the owner, Massimo Moratti.

"I took Paul Ince there, I took Patrick Vieira there - if there was something on, I am sure I would know.

"The situation is that Frank has got a massive match on Wednesday, after which he needs to spend time with his family, because he has not had a real opportunity to do that since his mother died.

"He needs to get away and sort out his personal life and when he has done that we will sit down and talk about his future in football.

"After that, we will talk to Chelsea and that is as far as we have got - there is nothing in the pipeline and I don't know why this has surfaced now."