Milan give up on Ronaldinho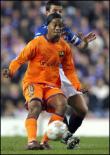 AC Milan vice president Adriano Galliano has admitted defeat in his efforts to sign Barcelona forward Ronaldinho this summer. It is understood that the Brazilian is to be sold by

Pep Guardiola

, but no decisions have been made for his future.
"I cannot ignore that Italian football is now in fourth position in Europe behind England, Spain and Germany," he said in Gazzetta dello Sport.

"We simply cannot compete with certain figures anymore.

"Manchester City have offered the Brazilian (Ronaldinho) 12 million euros (£9.5million) a year. We can only compete with that if they (Barcelona) give him away for free."