Villa unsure of top 4 finish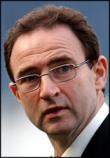 Aston Villa boss Martin O'Neill remains unsure whether or not his side can challenge for a top four finish, and therefore secure Champions League football next year. Villa have impressed many with their battling results this season.
O'Neill revealed: "If we managed to maintain a two point per game average until the end of the season, I would be absolutely thrilled. It is terrific at the moment.

"Every game we play and win is a big effort.

"We are not Manchester United, Chelsea, Liverpool or Arsenal. Those teams have been in this situation before and they are there every season. They know how to cope with this.

"It's been hard work for us. After Boxing Day, it's been a real struggle but we have managed to get the points on the board.

"Interestingly, during that period, our performance against Arsenal - where we picked up the solitary point - was our best.

"Overall, I couldn't be more pleased with the team - we have drive, effort and determination. We might lose three games in a row now but I assure you it won't be through complacency or lack of effort and desire."