Phil Brown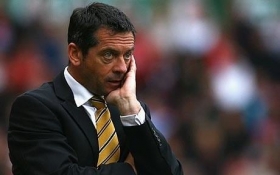 News from around the web

How a late transfer u-turn changed Hull City history ahead of landmark promotion year
deal ahead of a season that would famously end with promotion to the Premier League. The striker met with Phil Brown and agreed to...
07/05 11:01




News from Eyefootball

Imagine making a list of targets for deadline day recruitments then only signing one, then a few days later finding out that one signing has been sent to prison.

Hull City boss Phil Brown is ready to take a big gamble on the health and fitness of Ruben de la Red. Rumours from Spain this morning indicate that the Spanish midfielder, released by Real Madrid yesterday, is keen to move to England.

Hull City boss Phil Brown is putting the finishing touches on a move for former Wigan striker Amr Zaki. The Egyptian international is currently in the UK discussing a move.

Birmingham City are ready to offer a huge £6.5 million for Hull City midfielder Stephen Hunt. It is understood that Hull boss Phil Brown is ready to sell the midfielder who has shown great form again this year.

Hull City boss Phil Brown has admitted that there is a contract on the table for Fulham striker Bobby Zamora, but the forward has yet to accept it for some reason.

Jonas Gutierrez could be given an olive branch and another chance to try his luck at Premiership football by Hull City. Phil Brown has told his board that he would like to make a bid for the player who had a very disappointing first year at Newcastle.

Marc-Antoine Fortune looks set to join Hull City this summer after a fee was agreed with the Tigers and Nancy for the striker's coveted signature.

Hull City boss Phil Brown is set to make former Man Utd midfielder Quinton Fortune one of his first signings of the summer after the player was released from his club.

Hull City have launched an audacious bid to try and land Newcastle striker Michael Owen.

Hull City boss, Phil Brown, has urged his players to fight for a win against Aston Villa in the Premier League match tonight. The relegation battling Hull is in a bad form with only one win in 18 games.

Hull City boss Phil Brown has revealed the real reason why Christian Panucci did not move to Hull on transfer deadline day, insisting that money was the only reason the Italian could not arrive at the KC Stadium.

Hull City are reportedly interested in signing Spanish striker Nacho Novo from Rangers, if their bid to bring Marlon King in to the club on a permanent deal fails.

Hull City boss Phil Brown is chasing Espanyol defender Steve Finnan. It is believed that Hull are to give the Irishman an opportunity to quit the club in the coming weeks.

West Brom and Hull City are reportedly considering a move for Man City's out of favour midfielder Dietmar Hamann. It is understood that both clubs are willing to pay £500k for the German.

Hull City are preparing to make an offer for Ghana international midfielder Stephen Appiah. City's boss Phil Brown has been monitoring the free transfer market and sees Appiah as a useful acquisition.

Hull City boss Phil Brown believes that Chelsea midfielder Frank Lampard is worth £100 million. Lampard scored a wonder goal at Hull City in the Premiership last weekend.

Hull Ctiy have no intentions of letting boss Phil Brown leave the club. There had been rumours that Tottenham were thinking about making Brown their boss after sacking Juande Ramos.

Hull City are apparently closing in on a move for Wigan striker Henri Camara. It is understood that the Tigers' boss Phil Brown has made an early inquiry for the player prior to a January transfer move.

Hull City boss Phil Brown has admitted he could make a move for Greece international Stelios this summer after the player's contract with Bolton expired.

Hull City are interested in signing Tottenham defender Antony Gardner. It is understood that the City boss Phil Brown is ready to pay £3 million to land the defender.