Baddrol Bakhtiar to join Wigan?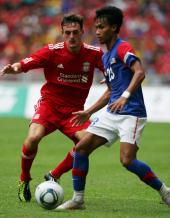 Wigan have made a surprising trial offer for Baddrol bin Bakhtiar. The Malaysian international currently plays for Kedah FA. The player has excelled in recent years in the Malaysian Premier League, and according to reports from Malaysia, he will earn a trial period at the Latics.
Rangers enter Malaysian market for Mohd Safiq Rahim - December 2011

Bakhtiar is very highly regarded in his homeland. The winger, who can also play up front, is known for his blistering pace and dribbling abilities.

Bakhtiar has already spent some time in England, he spent a period with Chelsea at Stamford Bridge for two weeks so is already familiar with the standard of football required in the Premier League.

It is understood that Bakhtiar is being considered by Wigan as they consider merchandising opportunities in Malaysia, a market with huge growth potential for the Premier League brand.