Sneijder almost joined Man Utd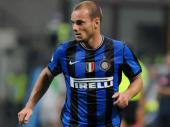 Dutch midfielder

Wesley Sneijder

has lifted the lid on his rumoured move to Man Utd, whilst revealing that he hoped he could stay in Italy for the time being.
Wesley Sneijder had been a target for Manchester United all summer but at the last minute Sneijder decided to stay at Inter Milan.

Sneijder admitted: "I just felt that it was close, yes [I thought I was going].

"We had several talks, the situation was such that Inter had to sell a player, Eto'o or me, and indeed there was interest.

"They [Manchester United] are one of the biggest clubs in the world, so it did not seem a bad thing - but at the same time I do not want to leave Inter."

The former Real Madrid playmaker ruled out financial reasons deterred him from the move to England and insisted he stayed because he enjoyed life at the San Siro.

"Italy is great for me, and I cannot exclude that they [United] got that feeling, for me a move was not an absolute must and there were a few things which meant it did not happen.

"For me it was not so much a financial issue, my feeling was that I was simply feeling very good at Inter, I love the club but also the Italian culture and the people, it fits me."