Tottenham boss not keen on Greece trip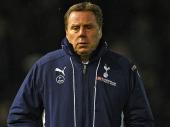 Tottenham boss

Harry Redknapp

has labelled Spurs' trip to Greece against PAOK Salonika as a 'nuisance'. Tottenham's coach is hoping that the reserves can take lead for the Europa League tie.
"The problem I've got on Thursday is I can't really take this lot who've played at Wolves," said the Spurs boss.

"It is a nuisance. There won't be too many of these going to Greece."