Arsenal will not sack Arsene Wenger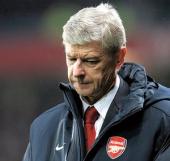 Arsenal chief executive

Ivan Gazidis

will not fire

Arsene Wenger

, despite the French manager finding himself increasingly under pressure after the Gunners' worst start to a season for 58 years.
After Arsenal's 4-3 defeat to Blackburn in the Premier League last weekend, the Gunners find themselves in a precarious position in the bottom four of the table.

However, Arsenal's chief executive refutes claims that Arsene Wenger will be fired, and reassured fans that the board has full confidence in their manager.

"Arsene Wenger is not broken. To see him portrayed as an idiot is damaging - not to him or the club but to the game.

"[Sacking him] is a route we are not going to go down.

"He didn't suddenly become a bad manager or out of touch. That's nonsense.

"He's frustrated but very, very focused on putting things right and is as positively engaged as ever to drive the club forward."