Song calls for Arsenal team spirit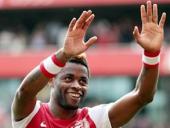 Arsenal midfielder

Alexandre Song

wants the team to return to good form as soon as possible, and this can only be achieved with a united team spirit and positive attitude.
Song said: "We need to just keep going. We can't lose games like this, it is not normal. We are not allowed to do it, for the fans and for everyone who loves Arsenal.

"We need to learn from this one for the future because we are not in a good situation at the moment.

"When everybody comes back we will feel very good and strong.

"We need to keep our heads up and try to push ourselves to learn and give the best for the future."