Premier League beckons for Amauri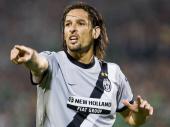 Juventus striker Amauri is likely to move to a Premier League club next summer. Amauri is desperate to quit Juventus, and has been told he is free to speak to other clubs.
''There is a 70percent chance that Amauri will play in England,'' Amauri's agent Ernesto Bronzetti told Italia 1. ''But there is also a possibility that he could join an Italian team.''


Clubs interested in Amauri are believed to include QPR, Sunderland and Everton; all of whom are tempted by the relatively low price tag of just 2m GBP.


Last season Amauri spent time on loan at Parma, but the Italian club were not able to match the price to sign him permanently.