Veteran striker Raul eyes Schalke stay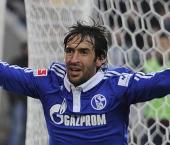 Spanish striker Raul wants to extend his stay with Bundesliga giants Schalke 04 for another season. The former Real Madrid man admitted that the idea of another year in Germany could be a possibility.
Blackburn Rovers were famously linked with a move for the forward at the end of last summer, but instead the Spaniard decided to stay in Germany.


"I want to continue playing here, but we'll see about it next month", Raul told Sky Bundesliga.


"The talks are scheduled for January."