David Beckham to quit LA Galaxy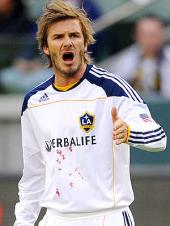 David Beckham

has revealed that his time in the MLS is coming to an end, as he ends his three year ties with the LA Galaxy. Beckham had been linked with a move to Australia.
"I've had an incredibly special time playing for the L.A. Galaxy, however, I wanted to experience one last challenge before the end of my playing career, said Beckham.

"I don't see this as the end of my relationship with the league (MLS) as my ambition is to be part of the ownership structure in the future."