No offer from Man United yet for Nicolas Gaitan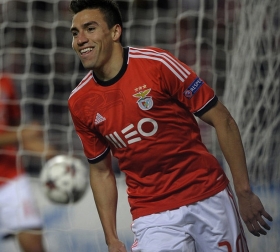 Nicolas Gaitan

's agent has insisted that there have been no new offers for Benfica's Argentine playmaker as of now.
The 25-year-old, who was part of the Benfica side that finished as runners up behind Porto in last season's Premiera Liga , has been linked with Manchester United in recent years.


Benfica had bad luck on their side last season as they lost three crucial opportunities to earn themselves a trophy in just a week. One of which was a heart breaking defeat against Chelsea in the UEFA Europa League.


Gaitan's agent Jose Iribarren has told the media in Portugal that the highly-rated player, who joined Benfica from Boca Juniors in 2010, has no intention to leave the club.


"For now, there is no formal offer," said Iribarren.


"He wants to continue at Benfica next season. We know the rumours have been appearing in the newspapers but I cannot confirm that there is particular interest from one club.


"To repeat, Nico Gaitan is calm and happy at Benfica."


Should a big club like Manchester United put up a bid, It would be interesting to find out how the Argentine International would recon it.