Ashley Williams happy at Swansea City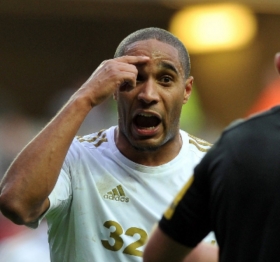 Ashley Williams

is understood to be keen to remain at Swansea City beyond the summer, according to his agent.


The Wales international has been associated with the likes of Arsenal and Sunderland in recent weeks, following reports that he would not sign a new deal with the Swans.

However, his agent Jamie Moralee has revealed that his client would prefer to remain at Swansea, and has no intention of leaving the club in the near future.

"At the end of the day, we'll see what happens. A bid's come in from Sunderland, but I've got no control over who bids for my players and neither has the player." He said. "It's up to Swansea to make him an offer because he doesn't want to leave. Just because a club has put a bid in, that's not to say Ash wants to leave, that's far from the truth."

Williams joined the Welsh outfit from Stockport County in the summer of 2008.