Juventus step up to 2nd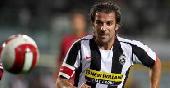 Alessandro Del Piero

the captain helped move Juventus up to second as he grabbed two goals in Juventus' 3-2 victory over Lazio in Serie A to send them up joint second in the table.
Juve started well as Hasan Salihamidzic fired a above the bar on nine minutes and Giorgio Chiellini nodded high by a hairsbreadth off an Alessandro Del Piero free kick five minutes later.

The guests were far more threatening through a Goran Pandev's drive that Gianluigi Buffon deflected on 17 minutes, while Stefano Mauri squandered one minute later firing high from few metres off.

A corner kick action allowed David Trezeguet to put Juve ahead on 29 minutes with the Frenchman flicking home after Salihamidzic pounced on a ball nodded by Chiellini.

Trezeguet's 12th goal this season confirmed him atop the scorers' table, where Goran Pandev moved on to seven goals as he equalized with an easy header on 36 minutes and scored a late but useless goal.

Juve's defence dithered as Massimo Mutarelli squared for the Macedonian striker and had more trouble in the remainder of the first half under Lazio's hammering attacks.

After the break, Lazio slowed down their pace and were immediately punished when Del Piero on 48 minutes put the guests back in the lead and secured their win 22 minutes later.

The Juve captain was flawless drilling a low drive by the far post to stun Marco Ballotta after a fast counter-attack run on the left flank and repeated his feat in a copycat action.

Trezeguet missed a chance to also notch a brace on the hour as Ballotta blocked his close-range effort, but Juve had to thank Buffon for a series of amazing drives on a volley and two headers from Rocchi.

The international goalkeeper made his last save on 80 minutes blocking a Mutarelli volley from inside the area, but stood no chance when Pandev nodded home in injury time to draw level with Del Piero on seven goal.