Southgate rejects Alves rumour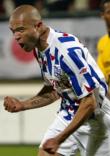 Middlesbrough boss

Gareth Southgate

has moved to reject claims that the club are interested in signing Heerenveen's Brazilian striker

Afonso Alves

. Alves is being courted by AZ Alkmaar.
"We are going to be linked with any number of players, some of whom are going to be realistic, some of whom we are not going to be able to afford and some I have never heard of," said Southgate bemusedly.

"I have heard of him and I have to be very careful as a young manager as I don't want to be shown up for a lack of world football knowledge.

"But some of the names that get thrown up seem almost anagrams."

Alves was due to join AZ Alkmaar on a £13.5m deal on Friday but the deal collapsed; supposedly because an unknown Premiership side were interested.