Barcelona 4 - 0 Man City - Match Review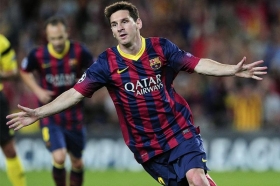 If you saw the exaggerated scoreline you would automatically think that Barca, especially Messi, ran rampage tonight, however that is far from the truth, in the end it was Man City's complacency that let them down.


In the first thirty minutes neither side lit the world alight, with Man City managing the lion share of possession but doing very little with it. However by the 17th minute Barcelona had already managed a goal, due to Fernandinho's unfortunate slip and Messi's cool finish. Near the end of the first half the citizens' possession started to pay dividends, with city coming close on a couple of occasions.

As the teams came out for the second half, Guardiola's side would have been confident that if they carried on playing as they had, it would surely reap rewards. As the play began that seemed to be the case with City continuing to create chances. However in the 57th minute, Bravo made a poor pass, effectively giving Suarez an open goal to shoot at, trying to make up for his mistake, Bravo handballed the ball outside of his area and was dismissed.

From then on, City were on the back foot, nonetheless they still tried to dominate possession and play just as they did when they had 11 on the pitch, in the end it was this stubbornness that led to City's downfall. The Catalans put more pressure on the ball and forced mistakes from City, leading to two goals within twelve minutes, and Messi scoring yet another hat trick. 

In the 73rd minute Barca also had a man sent off however by this time the game was finished and Neymar, who missed a penalty in the 87th minute scored in the 89th. However Barcelona were far from there best and if City were less complacent and transitioned the ball from defence to attack quicker, the Catalans could've easily lost the game.

Although City lost by a large scoreline, there are positives to take away from the game, and if it were not for City's complacency tonight they could have got a result.