Three nations prepare joint World Cup bid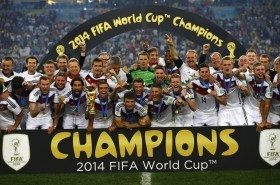 With just over a year to go until the 2018 FIFA World Cup, plans for the bidding process are being made to host the 2026 edition of the tournament. The 2026 World Cup will see the competition step up from thirty two teams to forty eight and three nations are preparing to launch a joint bid to be the ones hosting the world's biggest sporting spectacle. 
Mexico, Canada and USA will join together in order to attempt to be the ones hosting the 2026 World Cup. It would be a historic moment for the tournament, with three nations never having joint hosted the competition. 

Europe and Asia are unable to compete for the 2026 tournament, because at the time they will have hosted the last two tournaments. Africa is said to be struggling to provide venues to host a tournament of such scale, whilst South America are rumoured to be more keen on hosting the 2030 tournament, which would be the 100th anniversary of the FIFA World Cup. 

A decision will not be made until 2020, but it would appear that the CONCACAF nations are in a strong position for success, as they get set to launch their bid in the near future.