Ancelotti to Barca?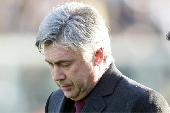 Ancelotti has given a hint that he would be available to take over Barcelona next season
Ancelotti's future at San Siro seems insecure after Marcelo Lippi being the latest to be linked with the club.

AC Milan has had a poor start and is 15 points behind arch-rivals Inter. Silvio Berlusconi has reportedly announced making funds to replace the aging Milan to form a new generation and this might include a new manager too.

When asked about Lippi replacing him as the Milan boss he said that a mutual parting of ways between himself and the club is not on the cards.

He added "To go to barcelona? Why not? But in Europe Barcelona are not the only ones"

Frank Rijkaard's position at Barcelona is under constant threat and everything depends on the coming days.

José Mourinho has been strongly linked to both Milan and Barcelona. It seems that next season would showcase the transfer-play of most respected managers in the world now.