Chelsea to lose home for four years?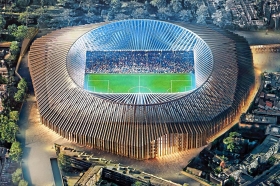 Plans were revealed recently of the redevelopment that will take place at Chelsea's Stamford Bridge, transforming the famous old stadium into a £500 million, 60,000 capacity arena. The initial plans were set to see The Blues have to find a new home for two seasons, but that may be set to increase up to as many as four years. 


Due to issues regarding building works around that stadium having to work over the top of rail lines, The Sun reports that the initial two seasons that Chelsea would be playing elsewhere is set to double. 

Building work is set to begin next year, but Chelsea will still play their home games at Stamford Bridge for the duration of the 2018-19 season. They will then move away for as long as the work takes, with no stadium yet confirmed as their new home. 

Wembley is still a potential venue for Chelsea, which will replicate Tottenham Hotspur, who will play their home games at the England national stadium next season. 

Other potential stadiums include West Ham's London Stadium and even Reading's Madejski Stadium. If the timescale is confirmed at four seasons, it will be difficult for the Premier League leaders to agree a location over such a long time period.