Aguero out for 10 days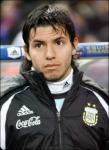 Atlético Madrid super-striker Sergio "Kún" Agüero has suffered an injury that will see him out of action for ten days.
The 19-year old Argentine twisted a ligament on his right ankle in the home match against Real Murcia. The game ended in a draw and the Madrid side would be concerned more by Kun Aguero's injury.

He will miss Argentina's friendly against Guatemala in Los Angeles on Wednesday.