Football as we know it may be about to change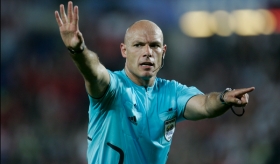 The traditional ninety minute football matches that we are all accustomed to may become a thing of the past when the International Football Association Board meets to discuss how they can eliminate negatives from the game.


This proposal would see the forty-five minutes halves replaced by thirty minute halves, with the clock stopping whenever the ball goes out of play.

The aim of this is to reduce the amount of time wasting that is involved in modern day football.

Research carried out by IFAB explains that with the regulations as they stand we only see sixty minutes of "effective playing time" throughout the course of a ninety-minute match.

One man who would be glad to see this rule changed is Gianfranco Zola, who has experienced the time wasting involved in football as a player and a manager.

Zola told BBC Sport "I personally like this rule because there are so many teams who try to take advantage of it because they are winning and wasting time - so I think it is not a bad rule."

Some other regulation changes that are set to be suggested at the meeting include the elimination of following up spot kicks by awarding a goal kick if it is saved and the ability for players to dribble the ball directly from a free kick.