Fergie ready to challenge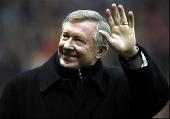 Man Utd boss Sir

Alex Ferguson

believes that his squad is more than capable of challenging on all three fronts as we move beyond the half way point of the season. United are poised to perform in all three major trophies.
"They've done very well, the team," Ferguson told Sky Sports News. "It's a developing team, as I said a year ago, it's a young team that is growing up together.

"The performances this year have been very good. We got off to a sticky start, missing Rooney and Ronaldo, and players weren't 100 per cent fit, but now it's really going well.

Your confidence is based on what you see on the football field. Obviously the way the team is performing at the moment, and the squad we have got together, gives you that confidence.

"These players have a great team spirit among them. They're hungry players, they never give in as they demonstrated last Saturday at Tottenham. These are fantastic qualities to take into the second half of the season.

"It's going to be tight, no question about that. It's a tough league, it's not an easy league, it's not an amateur league, it's a real, tough, professional league.

"It's bearing up well. My squad is getting stronger. Louis Saha is back next week, Paul Scholes being back is like signing a new player and Ji-sung Park coming back is another big bonus to us.

"The squad is looking strong and I hope that will help us."