Hearts: no transfer listing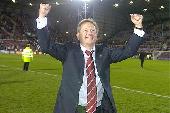 Despite rumours of Hearts chairman

Vladimir Romanov

making all of the squad available for transfer after poor performances, a club spokesman has hit out at the rumours considering them wide of the mark.
"These kind of stories are just mischief-making in the extreme and are utter nonsense," he said.

"To suggest that the entire first team has been put up for sale is simply not true and the journalist concerned clearly has a wonderful imagination.

"It is interesting how these kind of articles invariably materialise before important games.

"Our caretaker-manager Stephen Frail and the players will not be distracted by such nonsense and are fully focused on taking three points against Gretna (on Saturday)."