Ajax get van Basten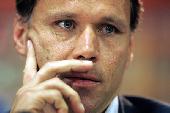 Ajax have appointed their new boss - Holland coach

Marco van Basten

. The Dutch legend revealed he would not be renewing his contract in December and has decided to join Ajax as of July 1st.
Ajax technical director Martin van Geel said: "We are delighted with the news. "They (Van Basten, Van't Schip and Witschge) are three ambitious coaches with an Ajax pedigree and all three have had an international career as a player and now they also have enough experience as coaches.

"It's also very good that we have clarity about the technical staff for the coming seasons."

van Basten's agent said: "We have worked in the last few weeks with the full management of Ajax to come to a successful conclusion.

"Both parties are pleased about how things went and the outcome of it all.

"The duration of the negotiations makes clear the precision and attention to the whole process."