Fergie: no more Utd slip ups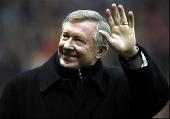 Manchester United boss Sir

Alex Ferguson

has warned his side that they must not slip up anymore otherwise they risk falling too far behind Premiership league leaders Arsenal.
"We're in a position where we can't afford any slip ups," said the United manager on Friday. "We have to motor on and get some consistency.

"It's not easy playing catch-up. We've done it in the past and we've failed in the past. At the moment Arsenal have the advantage - there's no doubt about that.

"They are five points clear but teams will drop points between now and the end of the season - there's no doubt about that. It's unavoidable."