Corluka: sad for Eduardo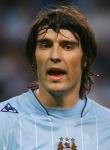 Man City defender

Vedran Corluka

has spoken of his disgust and sadness at the horror injury Arsenal striker Eduardo sustained against Birmingham at the weekend. Corluka and Eduardo were teammates and Dinamo Zagreb.
"I was very disappointed and sad because Eduardo is my friend.

"When I saw that thing happen to him I wanted to cry because he's such a good guy and he didn't deserve that.

"I don't want to talk about that tackle. I think the player didn't want to do that, it just happened.

"I'm just sad because Eduardo didn't deserve that. The player made that tackle but I think he didn't want to do that, he was just unlucky on that tackle."