Eduardo can't remember injury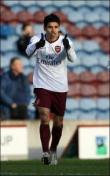 Arsenal striker Eduardo has insisted he cannot remember the injury he sustained at Birmingham at the weekend when

Martin Taylor

broke his ankle in three places.
He said: "I don't remember the incident very well and it is not something that I want to see again on television or in the newspapers.

"All I remember is that when I fell, I looked down at my foot and it had turned the other way. The rest is just a blank. It was an unfortunate situation but these things can happen in football.

"I am unsure at the moment of the extent of the injury and how long I will be out of action for but I know that I won't be able to play for Arsenal for the rest of the season or be ready in time for the Euros this summer.

"But I'm not worried about that. My concentration and determination is on making as quick a recovery as possible. I am determined to overcome this injury."